Guide to Switzerland countryside 2023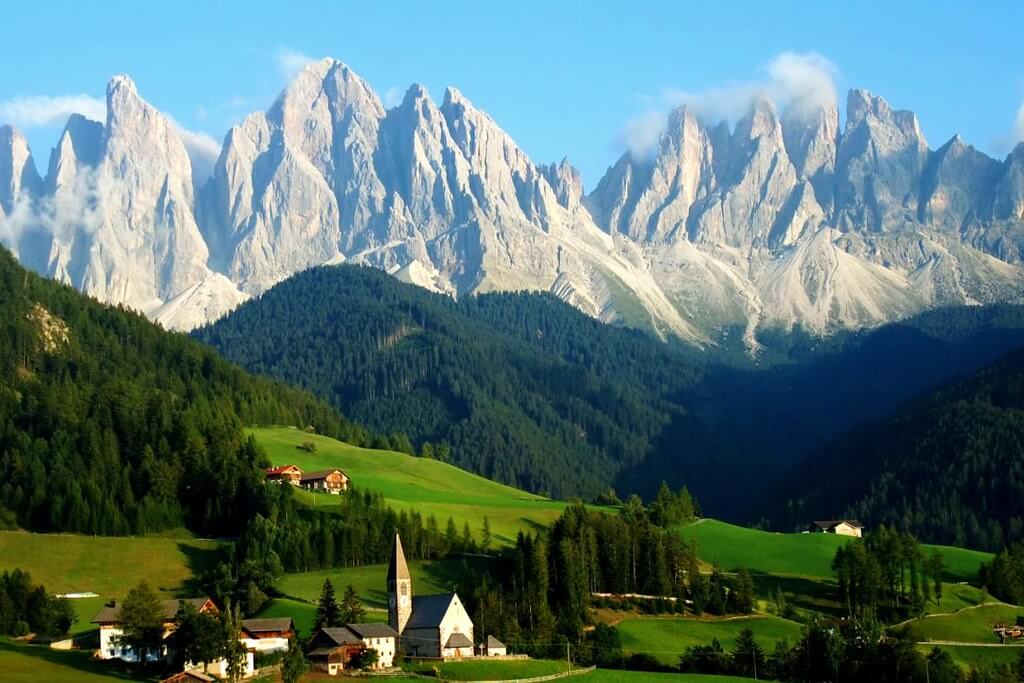 Are you ready for an adventure in one of the most stunning landscapes on Earth? Look no further than Switzerland's breathtaking countryside! Imagine yourself scaling towering mountain peaks, gazing out at turquoise lakes from high above, and exploring charming villages nestled among rolling hills. The Swiss countryside is a wonderland of outdoor activities, from hiking and skiing to mountain biking and paragliding. Get your adrenaline pumping as you ski down world-class slopes or jump from cliffs into crystal-clear alpine lakes. And when you're ready to relax, enjoy the fresh air and picturesque scenery with a leisurely stroll through idyllic meadows or a picnic by a babbling brook. Come experience the thrill of Switzerland countryside – it's waiting for you! Let's explore some of the most beautiful villages in Switzerland winter.
Top 10 Villages in Switzerland
Switzerland countryside is a thing of beauty. It is a land of fairy tale villages, where cobbled streets wind past wooden chalets, flower-filled balconies, and quaint cafes. With over 4,000 villages scattered across the country, it's hard to choose which ones to visit! But fear not, adventurer, as we've put together a list of the top 10 Swiss villages that you absolutely cannot miss.
The oldest Swiss village, according to historical records, is Rapperswil, located on the shores of Lake Zurich. This charming town dates back over 800 years and is known for its medieval castle and beautiful rose garden. Other must-visit villages include the car-free Zermatt, nestled beneath the iconic Matterhorn; the colorful Appenzell, famous for its folk art and traditional cheese-making; and the picturesque Gruyères, home to the delicious eponymous cheese and a castle dating back to the 13th century.
Whether you're looking for outdoor adventure, cultural immersion, or just some peace and quiet, the Swiss villages have it all. So why not take a break from the hustle and bustle of city life and discover the charm of these idyllic towns? You won't be disappointed!
Here is a list of villages in Switzerland, they tend to be the top 10 villages considered by the reviews and stories of locals:
1. Zermatt
Nestled beneath the iconic Matterhorn, Zermatt is a car-free village known for its stunning alpine scenery and world-class skiing. Whether you're hitting the slopes or strolling through the picturesque streets, Zermatt's charm and beauty are sure to leave you spellbound.
2. Grindelwald
Surrounded by towering mountain peaks and glaciers, Grindelwald is a paradise for outdoor enthusiasts. With its scenic hiking trails, world-class skiing, and breathtaking views, this charming village is a must-visit destination for anyone seeking adventure and natural beauty.
3. Gruyères
Located in the French-speaking part of Switzerland, Gruyères is a picturesque medieval town known for its delicious cheese, charming cobblestone streets, and well-preserved castle dating back to the 13th century.
4. Appenzell
Famous for its traditional folk art, alpine cheese-making, and picturesque hiking trails, Appenzell is a colorful and charming village in the Appenzell region. Whether you're seeking cultural immersion or outdoor adventure, Appenzell has something for everyone.
5. Lauterbrunnen
Set in a stunning valley surrounded by 72 waterfalls, Lauterbrunnen is a paradise for hikers and nature lovers. From its scenic hiking trails to its charming village center, Lauterbrunnen is the perfect destination for those seeking natural beauty and outdoor adventure. Switzerland countryside holidays are also great.
6. Lucerne
With its medieval architecture, scenic lakefront promenade, and iconic Chapel Bridge, Lucerne is one of Switzerland's most picturesque cities. Whether you're strolling through the historic Old Town or cruising on the serene Lake Lucerne, this charming city is sure to enchant you.
7. Montreux
Known as the "Swiss Riviera," Montreux boasts palm trees, lakeside promenades, and a famous jazz festival. Whether you're lounging on the beach or exploring the charming Old Town, Montreux is the perfect destination for those seeking relaxation and natural beauty.
8. Interlaken
Located between two crystal-clear lakes and surrounded by snow-capped mountains, Interlaken is a popular base for outdoor activities. From hiking and biking to skiing and paragliding, there's no shortage of adventure to be had in this stunning village.
9. Stein am Rhein
This charming medieval town on the Rhine River is known for its well-preserved half-timbered houses and ornate frescoes. Whether you're strolling through the historic Old Town or exploring the scenic Rhine Falls, Stein am Rhein is a must-visit destination for those seeking culture and history.
10. Rapperswil
The oldest village in Switzerland, Rapperswil is located on the shores of Lake Zurich and is home to a medieval castle and a beautiful rose garden. Whether you're exploring the historic Old Town or taking a boat ride on the serene lake, Rapperswil is a charming and picturesque destination that's not to be missed.
Switzerland's countryside is undeniably stunning, with its towering snow-capped peaks, pristine lakes, rolling green hills, and picturesque villages. You also have to take into consideration, that there are many small villages in Switzerland that are very beautiful with their unique backgrounds. If you decide to take on any of them, visit locals and ask them to tell those stories.
Most beautiful village in Switzerland winter
When it comes to beautiful Swiss villages in winter, there are many options to choose from. However, one village stands out above the rest: Saas-Fee.
Located in the canton of Valais, Saas-Fee is a picturesque village surrounded by towering peaks, making it a winter wonderland. With its snow-covered streets, traditional chalets, and cozy restaurants, Saas-Fee offers a quintessential Swiss winter experience.
There are some fairytale towns in Switzerland, which offer and unforgettable experience. Does not matter if you go alone or with the family, It will probably be one of the best memories of yours in Switzerland countryside.
Why is Saas-Fee beautiful in winter?
The village's most striking feature is its surrounding mountains, including the Dom, the highest mountain entirely within Switzerland. The scenery is truly breathtaking, with snow-capped peaks rising majestically above the village. Switzerland countryside tour is something everyone must try.
What to see and do in Saas-Fee in winter?
Winter sports are the main attraction in Saas-Fee, with the village offering excellent skiing and snowboarding opportunities. The village boasts over 100 kilometers of ski runs suitable for all levels of skiers. It's also home to the world's highest underground funicular, the Metro Alpin, which takes visitors up to the Mittelallalin ski area at an altitude of 3,500 meters.
Before visiting Switzerland, make sure to check new travel regulations. The new European Travel Information and Authorization System ETIAS is being introduced. It will be a way to streamline and enhance the security of travel into the European Schengen area.
In addition to skiing and snowboarding, Saas-Fee offers other winter activities such as ice skating, snowshoeing, and sledging. For those who prefer a more relaxing experience, the village has several spas and wellness centers where visitors can unwind after a day of winter activities.
What's the weather like in Saas-Fee in winter?
Winter temperatures in Saas-Fee typically range from -10 to -5 degrees Celsius, making it a perfect winter wonderland. The village receives an average of 230cm of snowfall per year, ensuring plenty of snow for winter sports and a magical winter atmosphere. Switzerland countryside places are simply amazing.
In conclusion, Saas-Fee is a charming and picturesque village that is not to be missed during the winter months. With its breathtaking scenery, excellent winter sports facilities, and cozy restaurants and cafes, Saas-Fee is the perfect destination for those seeking a quintessential Swiss winter experience.
Well, people say, that It's definitely the beautiful Switzerland countryside, which is a must-see.
Most beautiful village in Switzerland summer
Switzerland is full of stunning villages, but one that particularly shines in the summer months is Lauterbrunnen. Nestled in a lush valley in the Bernese Oberland region, Lauterbrunnen is a charming village that boasts breathtaking scenery and a wide range of outdoor activities. Switzerland countryside is a must-see!
Why is Lauterbrunnen beautiful in summer?
Lauterbrunnen is surrounded by 72 waterfalls, including the famous Staubbach Falls, which cascades 300 meters down a sheer rock face. The village is also situated in the midst of towering mountains, including the Jungfrau, Eiger, and Mönch, making it a paradise for outdoor enthusiasts.
What to see and do in Lauterbrunnen in summer?
One of the best things to do in Lauterbrunnen is hiking. The valley has over 200 kilometers of hiking trails, ranging from easy strolls to challenging alpine hikes. The most popular hiking route is the trail to the top of the Schilthorn, which offers breathtaking views of the surrounding mountains.
As mentioned above, ETIAS will change a lot of things about travel in general. When it goes live in 2024, it will be mandatory to submit an ETIAS application for citizens of the ETIAS eligible countries, including the UK. So the best time for visiting Lauterbrunnen could be now.
For adventure seekers, Lauterbrunnen also offers activities such as paragliding, canyoning, and white-water rafting. Visitors can also take a cable car to the top of the Schilthorn to experience the famous revolving restaurant featured in the James Bond movie "On Her Majesty's Secret Service."
What is the weather like in Lauterbrunnen during summer?
Lauterbrunnen's summer months are generally pleasant and warm. The average temperature is between 18-24 degrees Celsius. The weather can be unpredictable due to the mountainous terrain. Visitors should be prepared for unexpected changes.
Lauterbrunnen, in conclusion, is a charming village offering a variety of outdoor activities during the summer months. Lauterbrunnen, with its stunning waterfalls and towering mountains, is a must-see destination for anyone looking for a Swiss summer experience.
Conclusion
Switzerland's beautiful countryside is an incredible sight with its majestic alpine peaks and rolling hills. On top of that, clear, pristine lakes and charming villages. It's landscape has something for everyone.
Switzerland's landscape offers endless outdoor opportunities, including skiing, snowboarding as well as hiking and water sports. Swiss cuisine can be enjoyed by visitors. Local specialties include fondues, raclette, chocolate, and other Swiss delicacies.
Switzerland's landscape is an undiscovered treasure with its rich history and stunning scenery. Switzerland's countryside can be a great place to enjoy the beauty and the Swiss way-of-life.
Bear in mind that if you decide to get on a Switzerland countryside vacation, check out the oldest village in Switzerland.