The best breakfast restaurants in Switzerland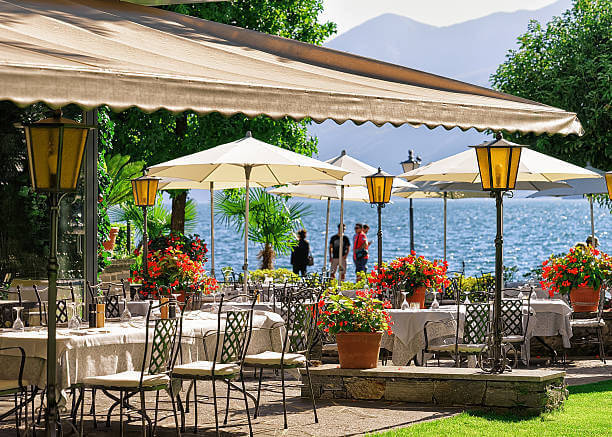 Introduction
Breakfast is the most important meal of the day, isn't it? Imagine starting your day with impeccably served dishes when the smell and taste match the serving energy. Where to eat the best breakfast Geneva, Switzerland? Or English breakfast Geneva? Exceptionally few things can be better than that, especially if you're on vacation in Switzerland and indulging yourself with all the treats while cherishing the billion-dollar-views of the heaven-touching Swiss Alps, silverware-like mellow lakes, or a harmonic combination of the medieval uprising and modern development, scratched through the excellently preserved architecture that makes you believe all this is a fairy take. But hold right there. This isn't a fairy tale, it's the real deal, and in this article, we'll take you on a tour of some of our favorite breakfast restaurants in Zurich. Visit and taste the best breakfast in Zurich old town!
What Is the Breakfast Restaurant and What Makes It any Different?
Breakfast restaurants are establishments that specialize in serving breakfast dishes to their customers. Typically, these establishments open early to cater to customer demand and close by lunchtime.
Breakfast restaurants often offer a wide variety of items for breakfast, from classic dishes like pancakes and waffles to more creative options like burritos, crepes, and sandwiches. They often provide healthy choices like fruit bowls, granola or oatmeal, and vegetarian and vegan alternatives. If you are looking for cheap breakfast Zurich, there are a lot of options for that as well.
Pricing at breakfast restaurants can vary based on location and the restaurant's level of formality. Some establishments are casual yet affordable, while others may be more upscale and pricey.
It is hard to say where is the best breakfast in Zurich, but one thing is for sure. It's essential to note that some restaurants breakfast serve items all day, while others may have a separate brunch or lunch menu. Furthermore, some establishments may only have limited seating – so check if reservations are required or if there's a waitlist before visiting.
Our Picks – Top 5 Breakfast Restaurants in Zurich
Zurich loves its breakfast, and there are plenty of excellent restaurants to choose from if you're in the mood for a delectable start to your day. Here are five of our top picks:
Babu's Bakery & Coffeehouse
Are you searching for a cozy cafe with delicious breakfast dishes and homemade pastries? Look no further than Babu's Bakery & Coffeehouse, one of Zurich's premier breakfast spots. This charming bakery offers an array of delectable dishes, from classic favorites like eggs Benedict to more modern creations such as avocado toast. There are American breakfast Zurich options as well.
Babu's Bakery & Coffeehouse is known for its delectable selection of homemade pastries and bread. Their croissants are flaky and buttery, while the pain au chocolat is rich and decadent. Additionally, they have other baked goods like scones, muffins, and cookies.
Babu's Bakery & Coffeehouse offers a healthy breakfast option in the form of granola bowls that are both delicious and nutritious. Try their Greek granola bowl with yogurt and fresh fruit, or choose their gluten-free granola with coconut yogurt. No matter which option you select, Babu's has something perfect for everyone's nutritional needs!
Babu's Bakery & Coffeehouse boasts an incredible menu and warm atmosphere, making it the ideal spot for a leisurely breakfast. Decorated with vintage furniture and artwork, the cafe also has an outdoor seating area on warm days for added outdoor enjoyment.
Finally, Babu's Bakery & Coffeehouse offers vegan and gluten-free options, making it a perfect choice for anyone seeking a generous breakfast. With its mouthwatering cuisine and friendly atmosphere, this spot is one of Zurich's best breakfast spots!
Hiltl
Hiltl is a beloved vegetarian restaurant that offers an expansive breakfast buffet Zurich with various choices. The modern and inviting setting creates the ideal environment for leisurely breakfasts, with homemade bread, fresh fruit, cereals, and granola available daily. If you're feeling peckish for something hotter, Hiltl also serves scrambled tofu, baked beans, breakfast potatoes, and vegetarian and vegan dishes to suit any dietary restrictions. With such diverse choices available at Hiltl, there's sure to be something for everyone's tastes!
Hiltl's breakfast buffet is known for its selection of fresh juices and smoothies, made with ingredients like spinach, kale, and ginger that are not only delicious but packed with beneficial nutrients – the ideal way to start your day!
Hiltl is renowned for its commitment to sustainability and ethical sourcing. All ingredients used in their breakfast buffet are locally sourced or organic whenever possible, while they significantly focus on reducing food waste.
Overall, Hiltl is ideal for a healthy and delicious breakfast in Zurich. With its extensive menu options, dedication to sustainability initiatives, and inviting atmosphere – it's no surprise why Hiltl has been such a beloved institution in Zurich for over one hundred years.
Café Felix
Cafe Felix is a hip cafe in Zurich's city center that's popular with locals and visitors alike for breakfast. The relaxed and inviting atmosphere with its outdoor terrace makes it the ideal destination on warm days. Plus, its affordable prices make it perfect for budget travelers as well.
Cafe Felix offers an array of breakfast items to suit everyone's preferences. From muesli and yogurt to omelets and scrambled eggs, there's something for everyone on their menu. Portion sizes are generous and made with high-quality ingredients for a satisfying and delectable meal every single time.
The cafe's outdoor terrace is one of its main draws. It offers a tranquil haven in the city center, perfect for enjoying breakfast al fresco. The terrace is dog-friendly so visitors can bring their furry friends along for outdoor fun!
Before visiting Switzerland make sure to check new travel regulations. The European Travel Information and Authorization System (ETIAS) is a new visa waiver system that will go live in 2023. Not only will ETIAS help to protect against security threats, but it will also streamline the travel process, while tacking health-related risks, crime and illegal immigration. Applications should take no more than a few minutes and will cost a nominal fee.
Cafe Felix is renowned for its affordable prices and delicious breakfast dishes in Zurich. Perfect for budget travelers who still want to savor an enjoyable breakfast experience!
Cafe Felix offers a breakfast menu and serves baked goods and coffee, making it an ideal spot for a quick bite or mid-day caffeine fix.
Cafe Felix is an appealing, budget-friendly breakfast spot in Zurich's downtown core. Whether you're in the mood for a leisurely breakfast on their terrace or need something quick on the go, Cafe Felix has got you covered.
Café des Amis
Cafe des Amis is one of Zurich's best breakfast spots, and for a good reason. This charming French-style cafe serves an extensive menu including croissants and pain au chocolat to heartier egg dishes and breakfast burritos. Plus, they function excellent coffee and tea – making it the perfect spot for a morning pick-me-up!
The cafe's warm and inviting atmosphere is one of its main draws. It's the ideal spot for enjoying a leisurely breakfast with friends or family or catching up on work over coffee. Plus, the staff are friendly and welcoming, which adds to the cozy ambiance created in the cafe.
One of the standout items on the menu is the croissants – flaky and buttery with an incredible taste. Egg dishes such as omelets and breakfast burritos also make popular choices thanks to the high-grade ingredients. Made fresh daily to ensure customers always get top quality.
Cafe des Amis is a charming French-style cafe that's one of Zurich's best breakfast restaurants. Cafe des Amis boasts excellent coffee and tea, offering espresso-based drinks and loose-leaf teas brewed to perfection. Their attention to detail and dedication to quality make the cafe stand out among Zurich's bustling breakfast scene. From its delectable menu to its inviting atmosphere, Cafe des Amis makes for an enjoyable start, whether you need quiet time or energy in the morning.
Fork & Bottle
Fork & Bottle is a must-visit breakfast restaurant in Zurich that offers an irresistible brunch menu on weekends, featuring dishes like buttermilk pancakes, fried chicken and waffles, or smoked salmon with scrambled eggs. The restaurant has an extensive drinks menu featuring specialty cocktails, local beers, wine, fresh juices, and smoothies.
On Sunday mornings, Fork & Bottle offers a breakfast buffet for those who want to sample different options. Choose from hot and cold dishes like eggs, bacon, sausage, pastries, fruit, or pastries with your beverage of choice!
As mentioned above, ETIAS will play a huge role in world travel starting from 2023. The ETIAS system is not yet activated, but when it goes live in 2023 it will be mandatory for citizens of the ETIAS eligible countries, including the UK, to submit an ETIAS application. ETIAS approval will need to be confirmed before travelling to Switzerland or any other ETIAS country.
The restaurant's contemporary interior design adds to the dining experience, making it an excellent choice for special occasions or a leisurely weekend brunch. The staff is friendly and attentive, ensuring each customer feels welcome and well taken care of.
In conclusion, Fork & Bottle is one of Zurich breakfast restaurants, boasting high-quality food and exceptional service. Don't miss out on this beautiful establishment during your next trip to Zurich!
Conclusion
Zurich offers diverse breakfast establishments, from traditional Swiss dishes to international cuisine. Whether you're searching for an intimate cafe, stylish restaurant, or budget-friendly spot for breakfast, Zurich has something unique to offer everyone.
Some of Zurich's premier breakfast restaurants are Babu's Bakery & Coffeehouse, Hiltl, Cafe Felix, Cafe des Amis, and Fork & Bottle. Each offers a distinctive dining experience, from homemade pastries and healthy dishes to French-style breakfast menus and brunch buffets.
No matter which restaurant you select, you will surely be delighted by the excellent food, friendly service, and inviting atmosphere. Make sure at least one of these breakfast spots is on your itinerary when visiting Zurich next – start on a delicious note!